Mobile Websites & App Development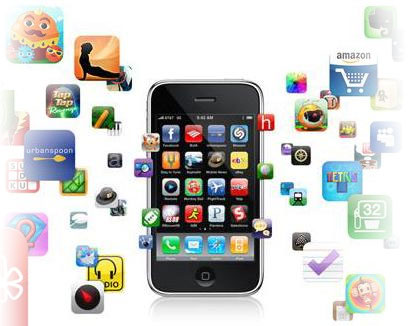 The Right Decision
As a business owner it is crucial to make the right moves at the right times. With the mobile web and applications leading the world in the latest software technology it is no wonder that everyone wants to go mobile. We believe in helping our clients offer the best possible mobile platform to their customer. From the brainstorming phase all the way to the app store, Otlay Interactive devotes all of their time and energy into producing the most reliable and comprehensive mobile services available. Make the right decision and let Otlay help you build your mobile community.
Mobile Web
At Otlay Interactive we understand that people are inherently 'on the go', for that reason we design all of our web content to be easy duplicated and viewed across all smart phone platforms. We don't want you to have to be tied to your computer so we make sure to make sure that your final product looks good on your desk, and in the palm of your hand.

Applications
Mobile Applications are the hottest topic in the tech world and on everyone's wish list. Apps have revolutionized the end users access to online and local data letting you carry all of your favorite material in your pocket. Ranging from the most basic, read only and informational application to live-data base interactive apps; we have both the skills and energetic drive to complete your mobile application project. To bring your company that competivtive advantage you have been looking for, let Otlay Interactive help you set the mobile curve in your industry.
Our Process:
Team Brainstorming & Idea Process: During this process we go over your wants and needs as far as your mobile project. We have an experienced team that combs over every detail of the project to make sure we bring you the best possible product. This phase involves multipe brainstorming and idea sessions both internally and with your team to make sure we fully understand what you are looking for.
Design & Design Consultation: Our design process allows us to take our notes that we have complied from our joint brainstorming sessions and put them into something visual. Our talented team of designers will go over your project with you to make sure we give you the most aesthetically pleasing look possible.
Client Approval
Mobile Development: The next step in the building process is the development phase. This phase is the most crucial and therefore we take our time. The development process is where we take our thoughts, ideas, and desgin and make it come to life. Our programmers have years of experience with both web and server side development allowing us to generate the best overall product with the least amount of bugs and lag.
Client Approval & Beta Testing Begins
Beta Version(s): Just working out some of the kinks. From this point it shouldn't be too much longer before you are cruising the web. We produce beta versions for our team to test and continue to work out the little bugs as we get ready to send it live.
Client Compeletion Confirmation: We get one last confirmation that everything is to your liking and then we send it over for a final polishing.
Uploaded to App Store or Server: ALL DONE. We upload the final version to the appropriate App Store or to your specified server for final viewing.