Website Design & Development Blog
Five Tools to Organize your Small Business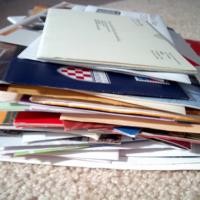 As a small business owner, organization can be the difference between success and putting you in the nut house. If you are properly organized, running your small business can be a breeze -- and will ultimately be shown in your profits. Organization starts at the top and will trickle down to benefit everyone from employees to customers. Your organization lets you better track your business from your initial client meeting to the sale of a product. These five tools are guaranteed to make you and your business more efficient and successful.
#1 Pen and Paper
It sounds simple and at first keeping pens and paper seems like a mess. However, in reality it will help you keep your mind organized. Like most small business owners, the wheels are constantly spinning and you are always trying to think of ways to improve and streamline your business. Keeping pens and paper around will allow you to write down anything you think of, so you don't waste that million dollar idea. The best way to go about this is to have pen and paper available anywhere you spend any substantial amount of time (desk, nightstand, etc.). During the week, consolidate your notes into one permanent storage place. The placement of pen and paper in your car, desk, and coffee table may be what keep the good ideas flowing and keep you ahead of your competition.
#2 Business Card Holder
Since not all contacts come in an electronic form it's good to have a place to put your hard copies of business and information cards you receive. To do this a leather business card holder from your local office supply store is perfect. These holders start at $10 and can be a life saver when you're trying to track down an old client or associate. Most people have stacks of business cards lying around their house from years of networking. The business card holder is the perfect solution for organizing your contacts.
#3 PDA
With thousands of cell phones on the market it's important to get one that fits your personality. Phones are normally the one thing we try not to leave home without. Each PDA offers a few unique features that will help keep your schedule inline. The great thing about PDA's is they combine your whole life and allow you to keep it in the palm of your hand -- a phone that fits you is crucial. The ability to combine multiple email accounts, notes, and calendars in addition to the thousands of applications built for business are sure to make life easy.
#4 Messenger: Skype
Sitting behind your computer has likely become a second home to you, as it has too many of us. One of the great things about the world of technology is that it allows you the freedom to work whenever and where ever. Skype is a must have messaging service that allows you stay in touch without being on site. Skype is a great way to keep in touch with clients and employees alike, as well as family when you're on the road. There are a variety of features that allow users to: instant messaging, video conference, call cell phones and land lines, all from a Wi-Fi connection. One of the great hidden treasures of Skype is the ability to log your conversations. Conversation logging will allow you to refer to previous conversations and conferences with clients so nothing is lost in translation. Further, ,Skype has recently gone, mobile allowing users to log in from their mobile devices and applications to chat and conference on the go.
#5 Ecommerce Website
An ecommerce website for your small business is the biggest key to keeping yourself and your business in working order. One of the great features of an ecommerce site is that most of them all are all inclusive; they give you the ability to organize orders, send invoices, collect payments, and more. Watching your customer's orders from the warehouse to their front door all with the click of a mouse is sure to free up some time and allow you to focus on other aspects of your business. In addition to the great back end features ecommerce sites can provide, some ecommerce sites also include a vast amount of front end user intuition. Amazon.com and Dell are frequently ranked as some of the best ecommerce sites on the web because of their unique user features like coupons, shopping or buying suggestions, and spur of the moment sales and discounts.
In the small business world a lot of our sanity relies on us staying focused and on track. These five tools are sure to make life a little easier in the future. From your brainstorming process to selling products, there is always a way to modernize and simplify your business. Staying organized will help you stay more consistent throughout your business and be reflected in the number of satisfied repeat customers.