Website Design & Development Blog
A Developer's First Impression Of Windows Phone 7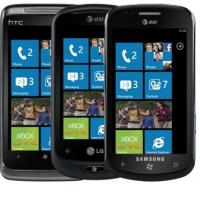 I recently switched from the iPhone 3gs over to a Samsung Focus with Windows Phone 7 (WP7). In this quick blog I will go through my first impressions, what I like, what I would like to see in updates, and just a few points of comparison with IOS.
WP7 First Impression
First turning the phone on WP7 instantly feels like it is a new concept and a great step up from the old Windows Mobile. Instead of just having a grid of application with a rather boring feel to it, you have crisp, bright tiles that pop out at you. The user interface looks extremely polished and is very user friendly. I did notice that out of the box plugging it into the wall or computer it started to lag. And since then it appears if the battery is low it will show slight lag at times while plugged in. At first I was pretty upset and thought that I had bought a crappy device but after the first couple of charges I don't notice it anymore.
What I Like About WP7
I love the live tiles and think that they have great potential. I feel like the live tiles is the biggest innovation in mobile operating systems for a long time. IPhone has not made any really outstanding leaps in my eyes. They have been using the same old layout with no upgrades to the lock screen or change in almost any other functionality that would streamline your productivity. More of a device specific point here but I LOVE the 4 inch AMOLED screen on the Samsung Focus. The screen blows the iPhone out of the water. It is also nice to be able to add up to 32GB of memory to the phone, although so far it has been quite the issue of finding a card that will work.
What I Want WP7 To Get In Updates
I want WP7 to get the ability to add ringtones to your device. I know this sounds like a small thing but not just for the ability to sport your favorite song but the current alarm is terrible. I don't see how any of the tones could ever wake anyone up.
Secondly, I want there to be copy and paste. In general I feel like I don't have any where near as much need for copy and paste as I did while using the iPhone 3gs but it would still be nice.
The third is a given... MORE APPS! I know this is not totally Windows responsibility, but there need to be more apps and I know there will be because WP7 is still a baby.
Also WP7 went the same route as iPhone as for the multitasking which personally I feel is good and bad. It causes developers to be more creative but it guarantees that a crappy developer won't drain your batter in 5 minutes. However, there is not really a task switcher other than the back button which obviously just goes back.
Windows Phone 7 Conclusion
WP7 is a huge step forward and I am extremely excited to see the first few updates roll out. In the next 6 months to a year I can see this being the best mobile operating system. I love Android and I especially love WebOS but WP7 is really raising the bar. In my opinion WP7 and IOS are very close to on par with each other as far as user friendly goes. I also feel that WP7 has much more potential until Apple decides to actually make a new operating system instead of just adding features. I love the concept of Android as I do appreciate open source, but I haven't actually owned one just yet so I can't speak much there. Although it is my understanding that they are for the more tech savvy of us, hence a reason many millions will choose IOS or WP7 instead.