Website Design & Development Blog
Apple 4.3 iOS Update, iPhone 4 back on top with HotSpot?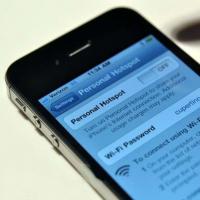 The much anticipated 4.3 iOS from Apple has finally arrived. Like every other update, Apple enthusiast were as excited as always to see what toys Apple had provided this time around. The new update scheduled for a March 11th launch, was released a day early. This update will allow iPhone 4 users to use their phone as a Wi-Fi hotspot as seen on the new Verizon iPhone and other mobile devices. Along with the new hotspot capabilities the iPhone 4 has increased the performance of Safari and in-home sharing through iTunes.
Hot spot
After the update to the iPhone 4 I was ready to become the neighborhood hotspot, or so I thought. In order to get my 4.3 iOS upgrade working to its full potential I had to spend eighteen minutes on the phone with an AT&T specialist to upgrade my data package. My current data package was grandfathered in allowing me to maintain an unlimited data plan for $30/month over the past couple of years.The once unlimited data plan was now 'upgraded' to a limited data plan with only 4 GBs of connection and tethering for an additional $15/month. The AT&T specialist informed me that once I have changed data plans I am not permitted to revert back to my previous data package. I hope it's worth the change!
2+2 vs. 4
Along with losing my current data package, which was without question better than the upgrade, the new data package is somewhat lacking. The new data plan will not include the 4 GB as advertised, but give users 2 GB of data for your phone and 2 GB for tethering purposes, a total of 4 GB. This may not sound like a big deal, but what this does is allocates your data usage for you. Instead of being able to use 4 GB of data at your discretion, you are forced to use 2 GB on your phone and 2 GB when tethering through your computer. However, if you over use your data on either of your 2 GB connections you will be forced to pay the additional $10 per GB. If the data plan enabled you to use the 4 GB how you desired, you would be able to use 3 GB on your phone and not have to worry about getting stuck with an overage charge every month as well as an unused GB of data.
Internet Connection
Although the data packages are a bit questionable and it made me second guess rather or not the updates were worth it, I was pleasantly surprised when it came to the internet connection speed. I ran a multitude of speed test through SpeedTest.net and the Speed Test Mobile Application. When using computer tethering, the internet connection maintained an impressive average of 3.96 Mb download speed, and an average of 3.25 Mb when using the Speed Test Mobile Application through a 3G data connection. I was very happy with the overall quality of the connection and will be a definite bonus to anyone that travels and has a hard time finding reliable internet. To top off the above average connection, I tested the phone using the Skype Application to place video calls through 3G data connection. The Facetime was much better than I had anticipated with no lag or down time and the quality is equivalent to Facetime via Wi-Fi. I don't recommend this as a replacement to everyday hardwire and wireless internet but it is decent second option. When connecting an iPhone 3GS to the iPhone 4 hotspot, the 3GS was able to double its download connection speed vs. using its own 3G network.
Web Browsing
Like most phones the iPhone isn't perfect and does have a few flaws. One of the most notable flaws was that of the Safari web browser. The previous Safari would cut out, lag, and bog down when being used at a fast pace. The new Safari is equipped with upgraded JavaScript that allows the browser to function up to three times as fast. This smoother operating browser gives the user a cleaner, much 'prettier' web browsing experience. The new, more responsive Safari has also been equipped to let slideshows and other animations run without the typical interruption or downtime.
Other Notables
The hotspot and new connection capabilities were the 'meat and potatoes' of the 4.3 iOS but not the entirety of the update. The iPhone has also been outfitted with new notification abilities which allow the user to select the number of times an alert will repeat, up to ten times. Apple also enabled the 4.3 to include iTunes home sharing. The home sharing will let users view their media on their mobile device through their PC or Mac through a Wi-Fi connection.
All in All
The overall update of 4.3 iOS was done with the end user in mind and has raised the bar once again when it comes to mobile devices and mobile user ability. Although the new "back door" data plan changes may be a bit questionable, the hotspot is no doubt a feature that every iPhone 4 owner will want to take part in. The new functionality added to the iPhone through the 4.3 iOS upgrade seem to outweight the miniscule price hike to use the If you can afford the few extra dollars a month on your bill, the upgrade to 4.3 will be worth the money.