Website Design & Development Blog
Apple iOS 4.3 Update Leaves iPhone 3G Out of Commission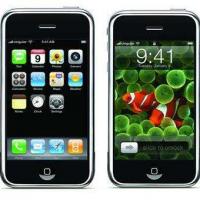 It's official, if you have an iPhone 3G, you're probably asking yourself "why isn't my iPhone 3G updating to iOS 4.3?!". It's because you're no longer in the hardware group that gets Apple software updates. They cut it out, you're stuck, and to date, Apple hasn't made any notion that they're intending to let you get security patches or continue much into the future with your phone. Funny timing with the launch of the iPad2, but far enough before the release date of iPhone 5 that you can't plan on upgrading your 3G to a 5 anytime soon.
Since iOS 4.0, the 3G model has mostly been short the ability to multi task. With the big speed improvements in iOS 4.3, is it really a question of the hardware not being able to support enough of the software, or is it an easy opportunity to shorten their development requirements and push some users to make those valuable upgrades?
iPhone 3GS Upgrades
AT&T has been making a big marketing push to get 3GS phones out the door for as little as $50. Assuming you (re)sign a 2 year agreement of course and are eligible for an upgrade. If you're not eligible, market price of a 3GS: $399. This means if you want to have the latest, secure software, and be able to run and update all of your apps, you're going to have to upgrade, or be stuck with a lack of features.
iPhone Upgrade Options?
Maybe now is the time to look at making a switch to Android, perhaps the stunning new Motorola Atrix? Or if your heart is really stuck on an iPhone, check out AT&T vs Verizon iPhone Comparison Chart and make sure you're with the company you want to be before ponying up for that new phone.
Lets just say we have both an AT&T and a Verizon contract in our office, and the Verizon staff does an awful lot of crap talking... I'll stick with my Blackberry Torch... for now... but if you're looking for a good time to upgrade, 2011 is going to be a good year to get some nice hardware. Multicore processors in phones are the future, and with powerful phones coming out that rival PCs less than 10 years ago, it's looking up to be a bright future for our handheld devices.